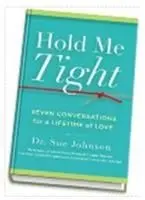 Great News! Love is no longer a mystery. There is a new science of love that can help us build safe, secure, loving relationships. Join an 8 week couples group based on Hold Me Tight: Seven conversations for a lifetime of love by Sue Johnson Ph.D. The format includes teaching and discussion of key components, video examples, an exercise for couples to process together, and homework.
Couples learn how to:
Identify the parts that contribute to your negative cycle
Find ways to stop the cycle and create new positive patterns of relating
Understand your spouse's need for connection
Repair the relationship
Create safety and security in the relationship for both of you
Build a deeper, stronger relationship that can endure through the years
This group is offered periodically on Thursday evenings . Please call or email for the registration form. This educational group runs two hours a week for eight weeks..
For more information about this group or the next group, please call 206-321-4850 or email me at [email protected]